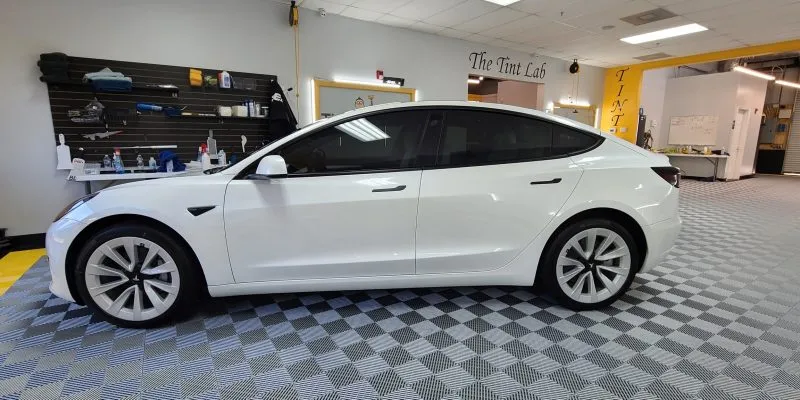 Tesla cars in McDonough, Georgia are becoming increasingly popular for a variety of reasons. They offer advanced technology, such as electric powertrains, advanced safety features, and modern designs.
However, keeping these cars in good condition and maintaining their value can be a challenge. As a result, paint protection film is a essential for any Tesla owner.
It not only protects the paint on your vehicle, but it also keeps your Tesla looking sleek and modern, preserving its value over time. Furthermore, the paint protection film is simple to maintain. With paint protection films, you can enjoy your Tesla to the fullest while knowing that it is protected from the elements.
Why Consider Paint Protection Film for Your Tesla Cars in McDonough, GA
Paint protection film, also known as "clear bra," is a thermoplastic urethane film that is applied to the painted surfaces of a vehicle to protect them from common road hazards such as rock chips, bug splatters, and minor abrasions.
It is a highly effective solution for preventing damage to your Tesla vehicle's paint. It is also easy to clean and effectively preserve's the vehicle's painted surface.
Paint protection film, unlike traditional paint protection methods such as waxing or polishing, does not require any special cleaning products or techniques. Simply wash your Tesla as usual; and the film will protect the paint.
This film can be applied to both new and used cars to keep the paint looking new for a longer period of time. This clear, long-lasting film is applied to your car's most vulnerable areas, such as the hood, fenders, mirrors, and door edges. It provides a barrier against scratches, chips, and other types of road damage.
PPF can save you the cost and inconvenience of having to repaint your vehicle in the future, as well as help maintain the resale value of your car by keeping it looking brand new for years to come.
If you own a Tesla in McDonough, GA, and want to protect your investment, think about investing in paint protection film from a reputable PPF installer.
Exploring the Advantages of Paint Protection Film for Tesla Cars in McDonough, GA
1. Protection From Environmental Damage
Tesla vehicles in McDonough, GA, are subjected to a variety of environmental factors that can damage the paint. These elements can cause discoloration, fading, and even chipping of the paint, ranging from the sun's harmful UV rays to bird droppings and road debris.
PPF is a nearly indestructible thermoplastic polymer that provides unparalleled transparency and longevity while effectively deflecting most road debris.
While ceramic coatings may protect against environmental contamination, they lack the durability required to withstand high-speed objects striking the car. Furthermore, PPF installations provide UV protection and act as a barrier between the paint and these elements, preventing damage and preserving the car's original color.
2. Easy Maintenance
Tesla vehicles are known for having low maintenance requirements, but even the best maintenance cannot prevent all types of paint damage. PPF is stain resistant, making it simple to keep your car looking new. Because it is a self-healing film, small scratches and swirl marks will fade over time. It is also resistant to most chemicals, making it easier to remove dirt, grime, and other contaminants without damaging the paint.
3. Increased Resale Value
PPF protects your Tesla from damage while also increasing its resale value. Tesla vehicles are expensive and applying PPF keeps your car looking like new for up to 10 years. When you decide to sell your car, it can help your resale value.
4. Customization Options
PPF or clear bra comes in a variety of finishes, from glossy to matte, and can be cut to fit any shape or size. In addition to paint protection film, window tint is another popular options for Tesla owners in McDonough, GA.
Professional PPF Installation Services in McDonough, GA
Paint protection film is an excellent addition to any Tesla vehicle. It's an investment that can save you money in the long run by preserving your vehicle's value and appearance. It should be noted that PPF should be installed by a professional to ensure that it is applied correctly to last as long as it should.
The Tint Genius team provides top-of-the-line paint protection film (PPF) installation services to ensure vehicle surfaces are effectively covered and ready for the road.
Call Tint Genius for all of your PPF needs. Contact Tint today to set up your appointment for the best Tesla paint protection film.
Obtain A Complimentary Estimate For Tesla Models' Paint Protection Film Now.
If you're thinking about applying paint protection film to your Tesla, the team at Tint Genius offers top-rated XPEL films that come with a 10-year warranty! Get a free quote today to protect your investment.