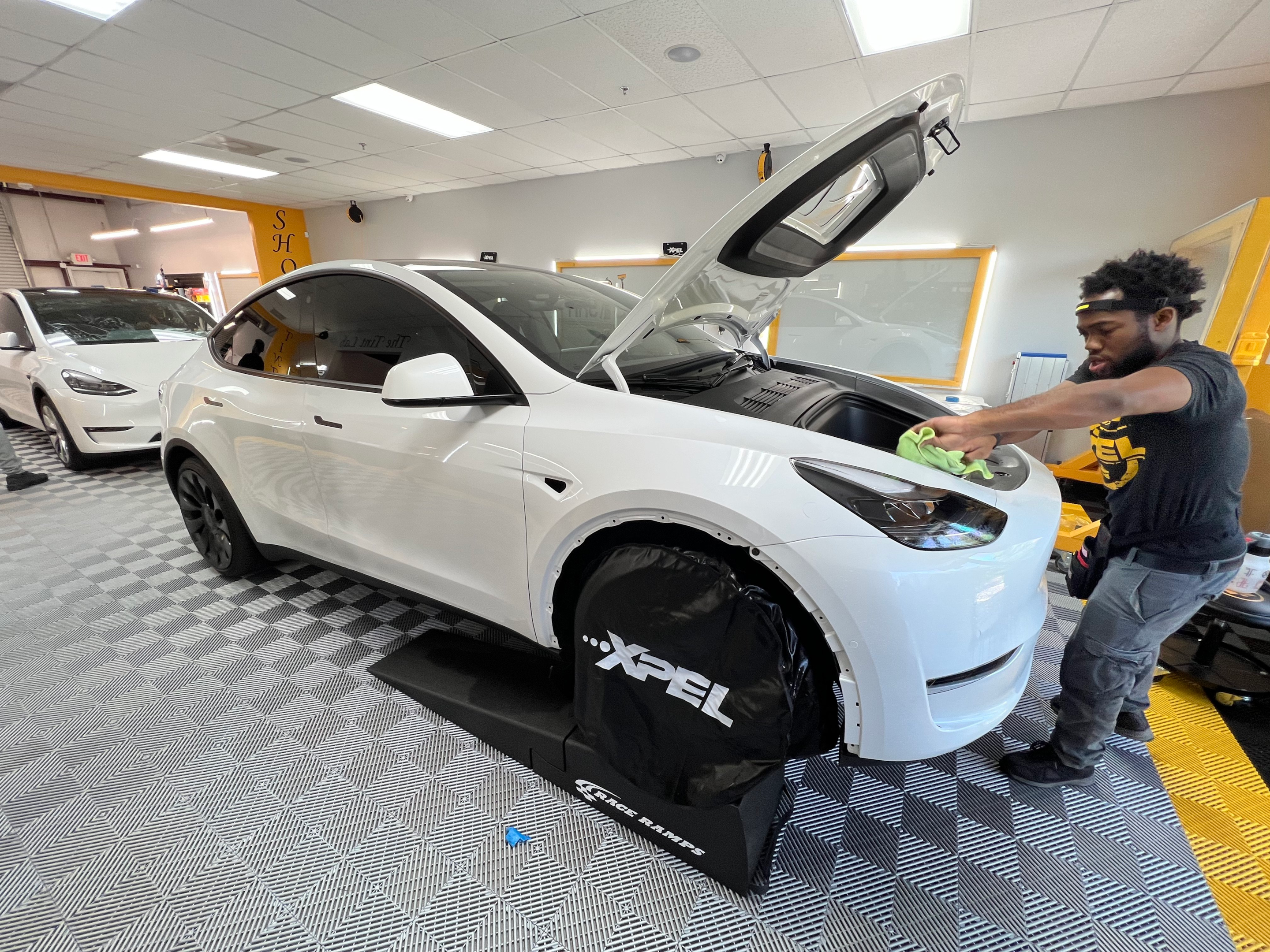 If you purchase a new Tesla vehicle, you want to keep it looking good for as long as possible. For this to happen, your Tesla vehicle will needs to be protected against road debris and other damage that can affect the appearance of your vehicle.
Paint protection film is the most effective way to keep your paint from taking a beating.
What Is Paint Protection Film?
Paint protection film is a transparent film composed of several layers combined with a self-healing coat. It is difficult to see because it is invisible. When you get light scratches on your vehicle from washing your car, the paint protection film is self-healing causing the scratches to disappear.
Tesla paint is extremely vulnerable to rock chips and road debris. XPEL Ultimate Plus is a virtually invisible urethane film. It protects your vehicle's paint from unsightly damage and maximizes re-sale value. Some of its features include self healing, stain resistance and superior optical clarity.
It is clear and lightweight like plastic.
It is not susceptible or delicate to cracks and tears.
It is highly resistant to abrasion, impact, and corrosion.
It is exceptionally flexible.
It can get back to its original form if disfigured or stretched.
The top layer of a paint protection film is made up of elastomeric polymers, which allow it to self-heal when scratched.
Because it is wrapped and stretched around your car, the lower layer contains an acrylic viscose that is flexible. It is long-lasting, so the film will not separate over time. And since it is clear, it will not change the appearance of the car.
How Much Paint Protection Film Does My Tesla Car Need?
Maintaining the paint helps maintain your car's appearance and value. Most Tesla owners will install install paint protection film on the full front of the vehicle. This includes the bumper, full hood, full fenders and the mirrors. It can also be advantageous to add the roof edge, rocker panels and A-pillars.
The process will serve as a sacrificial layer over your paint, similar to what a screen saver does for a cell phone. If the film is ever removed, the paint underneath will be in the same condition as when the film was originally installed. For those Tesla owners who prefer a matte satin finish to their paint protection film, XPEL offers a stealth film to change the vehicle's appearance.
The Benefits of Paint Protection Film on Tesla Cars
Many Tesla owners invest in paint protection film to shield it from surface scratches. Because it is stain-resistant, it is easy to wash away bird droppings and other debris and will keep the Tesla car from getting swirl marks after washing it.
The following are some of the benefits of using a paint protection film on the painted surfaces of your Tesla vehicles:
It Reduces Constant Paint Damage
The paint damage that can occur as a result of hitting road debris is a major concern for the car's appearance. For example, if rocks strike the vehicle's paint, the clear coat can be damaged, resulting in a large chip. PPF is a long-lasting, see-through thermoplastic polymer that can prevent rock chips when they hit the car. Because of its solvent and water penetration properties, the application of paint protection film is the best way to reduce paint defects on the entire vehicle.
It Can Hide Small Paint Imperfections
The adhesive has nanotechnology, which is why you should apply paint protection film. After the installation, the viscous slip hides swirl marks, scratches, and other imperfections in the paint job. It will help to enhance the gloss, depth, and shiny look of the car's paint.
How Long Does Paint Protection Film Last?
The film can last between 5 and 10 years. It is dependent on how well you maintain your Tesla vehicle. Many high-quality paint protection films can last up to ten years without cracking or yellowing. Paint protection film cost are less than repainting the entire car, making it a good investment.
Do You Want To Learn More About Paint Protection Film for Tesla Cars? Welcome to Tint Genius!
The paint protection film is a protective layer that can help prevent oxidation and fading caused by the sun.
If you need a paint protection film applied to your Tesla, the Tint Genius installers offer the industry's best film. For more information, visit Tint Genius at 1947 Hwy 42 N McDonough, GA, or call 678-609-6005 to make an appointment.