Benefits of Automotive Tinting in McDonough, GA
Window tinting not only upgrades your vehicle aesthetically, it also provides long-term benefits to protect you and your car.
1.You Can Prevent Your Car's Interior from Fading by Tinting the Windows
Installing window film helps keep the interior of your vehicle looking new longer. Window tint helps protect the inside of your car from fading, cracking, peeling. It also reduces windshield glare and shields your eyes from direct sunlight and nighttime headlights.
2.Window Tint Helps Prevent UV Rays
Window tinting can protect you from 99% of harmful UV rays that can lead to numerous skin cancers, premature aging and skin cell damage. That's why the Skin Cancer Foundation recommends XPEL's high quality window film. Individuals who drive for extended periods of time are especially at risk for damage from the sun. And for that reason, many companies pay for their fleet vehicles to be tinted for the protection and comfort of their employees.
3.Car Window Tinting Helps Reject Solar Heat
High quality automotive tint can block up to 98% of the heat coming through your car windows. In addition to the comfort this provides, your AC will not have to work as hard which ultimately leads to lower fuel consumption.
4.Automotive Tinting Will Provide You With Shattered Glass Protection
A good window film will prevent your glass from shattering when something hits it.
5.Window Tints Offer Security and Privacy
Window tint come in a variety of shades and improves the privacy for both you and your passengers.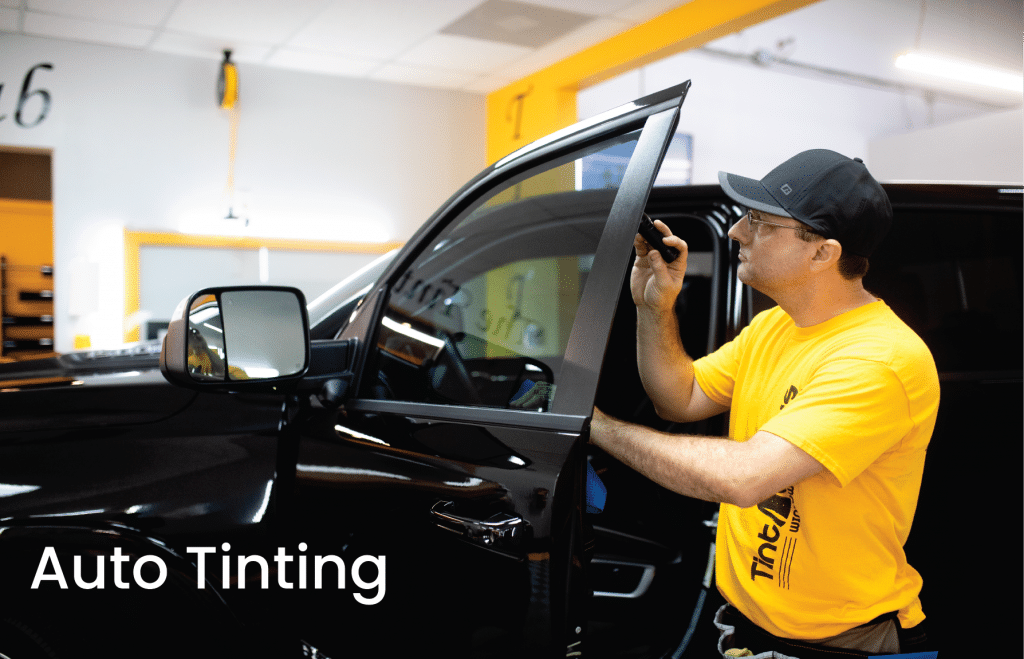 Different Types of Automotive Tinting
The benefits of automotive window tinting vary based on the type of film that is installed.
Film types include the following:
This is typically an inexpensive option for window film. Dyed films effectively block sunlight and darken the windows to provide privacy. A high quality color stable film is able to maintain its appearance for the life of the vehicle. Less expensive options may fade over time.
This film is made up of metal microparticles. It can effectively block heat but is no longer a practical option in today's digital age. Metalized films can interfere with your GPS, cell phone and bluetooth devices which is why most major film manufacturers no longer make it.
Ceramic films are made of nano-ceramic particles that create a barrier to infrared heat. They help protect the interior of the vehicle and offer the newest technology for blocking heat. Their effectiveness is not contingent on the darkness or shade of the film. It's possible to install a clear ceramic film that still blocks a tremendous amount of heat.
Do You Want to Learn More About About Automotive Tinting Services?
The advantages of automotive tinting go beyond simply improving the appearance of your vehicle.
A reputable, professional automotive tinting company such as Tint Genius in McDonough, GA can advise you on the best window film options for your needs. Tint Genius is the premier window tinting shop south of Atlanta. The Tint Genius team is knowledgeable, friendly, customer-focused and ready to help you decide on the right window tinting options for your car.
All Tint Genius installers are factory trained. They offer fast service, reasonable prices and have a waiting room that features refreshments and a work station. For a professional window tint installation, contact Tint Genius at 678-609-6005. Tint Genius also offers window film for your business office and home window tinting needs.
Tint Genius is located at 1947 Highway 42 N in McDonough, Georgia. Call to schedule an appointment today.